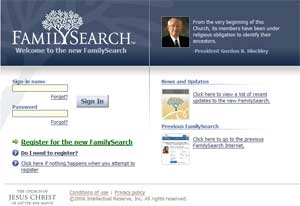 For those who may not know, for the past few years the Church has been overhauling and rebuilding FamilySearch, one of the world's premiere family history and genealogy websites, to expand its features and functionality significantly. It has been several years in the making, and is slowly being rolled out to members in selected temple districts across the world. From what I have been able to gather, the new FamilySearch will enable members to do much more family history and temple ordinance preparation work from home online. Some of the new features will include:
Add, correct, and manage family histories online
See what temple work needs to be done for ancestors
Prepare names for temple ordinance work at home over the internet
Easily see ordinance information and status of work in progress
Significantly reduce duplication of research and ordinance work
Correct personal submissions/data in real time
Dispute the submissions of others
Work collaboratively with family members and relatives
Find living relatives not known to exist
Print temple ordinance cards at home ((http://www.beyondproject.org/2006/06/12/the-new-familysearch/))
The new FamilySearch has not been rolled out to members in Utah yet, so I have not been able to check it out for myself, but I am very excited for this new program and what it will mean for the advancement of ordinance work being done in the Lord's temples around the world. It will greatly facilitate doing family history and geneology work and preparing names for the temple. Once the rollout has completed for all temple districts, the FamilySearch website will officially switch over to the new version and open up for the whole world to use.
Here is some more information about the new FamilySearch that I've been able to gather:
To see which temple districts have the new FamilySearch available, go to Ancestry Insider, who has put together an updated map and timeline of the rollout, as well as when future rollouts should happen. Here is a Google Map showing announced or online temple districts using the new FamilySearch.
The only official statement I've been able to find from the Church on the new program is at this link on LDS.org. Do you know of any others?
The new front-end of the website can be seen and accessed from here – new.familysearch.org. You will only be able to register if the new FamilySearch has been rolled out to your temple disctrict.
Wikipedia has cataloged some of the new features and rollout of the new FamilySearch here.
You can get a sneak peek at some of the new features that will eventually be incorporated in the new FamilySearch here – www.familysearchlabs.org. My favorite is the new Flash-ified Family Tree. You can see a demo here.
There is even a well-developed third-party forum that has been developed to discuss the new FamilySearch – www.familysearchforum.org.
What else do you know about the new FamilySearch, and what are your thoughts?