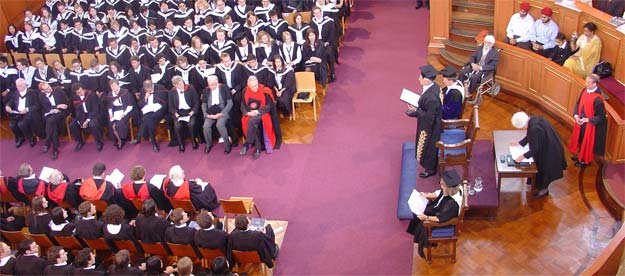 The University of Oxford in Oxford, England is "the oldest university in the English-speaking world"1.  It is also one of the "world's leading academic institutions"2.  Its history dates back to the 11th century CE, and its Christian ties are evident from its crest which reads "The Lord is my Light" in Latin3.  When an argument broke out in 1209, some disbanded and headed north-east to found the University of Cambridge, "the second-oldest university in the English-speaking world"4.
While there are many interesting implications that could be stated from the antiquity of this institution, the aspect which interests us here is that they claim their commencement ceremonies have remained unchanged for over 800 years.
In the year 1906 a tutor and later Warden of Wadham College at Oxford, Joseph Wells, published a concise yet fantastic study entitled The Oxford Degree Ceremony in which he chronicles the history and development of their degree ceremony, with all its trappings and forms, from its infancy in the twelfth century to the current day.  Wells describes the antiquity of the ritual of the graduation exercises, and the particular importance given to its constancy:
…in the conferment of University Degrees are preserved formulae as old as the University itself, and a ritual which, if understood, is full of meaning as to the oldest University history.  The formulae, it is true, are veiled in the obscurity of a learned language, and the ritual is often a mere survival, which at first sight may seem trivial and useless; but those who care for Oxford will wish that every syllable and every form that has come down to us from our ancient past should be retained and understood.5
Although even Wells admits that such long-term stability of the ceremonies is more of an ideal than a reality, noting that what is lost may never be humanly possible to restore:
…and though it must be said for their representatives in Oxford that they do their best to maintain old traditions, yet there is no doubt that innovations are slowly but steadily introduced… Perhaps in the near future Oxford may bestir itself in this matter, and see that nothing more is lost of its mediaeval survivals; restoration of what is actually gone is probably hopeless.6
Even with certain themes missing or altered, the proceedings of the Oxford degrees have many remnants of an ancient character, most of which have been almost completely dissolved in the dispersion of the forms in the universities, colleges, and schools throughout the world.  If we are to understand the origins and modes of our own graduation practices (and other analogous rites), an analysis of Oxford's as one of the first in the secular system is very educational.
With Wells as our guide, first we will take a look at the current forms of the Oxford ceremonies, after which we will see what some of the more archaic uses were which have been removed.