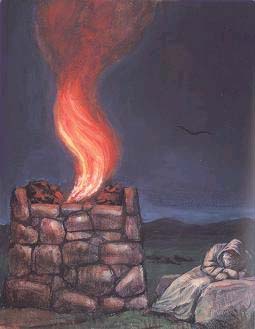 I had contemplated entitling this post "A Change in Temple Sacrifice Following Christ," but since today is Father's Day, I thought this title was more appropriate.
From the time they left Jerusalem until the time of Christ's ministry among his descendants in the Americas 600 years later, Lehi and his family offered sacrifice and burnt offerings to the Lord (1 Ne. 5:9; 1 Ne. 7:22; Mosiah 2:3). Such was part of the law of Moses which they sought to keep diligently, as the Israelites had been observing for thousands of years (Mosiah 12:28-29; Mosiah 13:27-28; Alma 25:15-16; 2 Ne. 25:24, 30; Alma 30:3). But even then, they remembered that the law of Moses was in similitude of the great sacrifice of the Son of God, Jesus Christ, who was to come to the earth and work out an infinite atonement by the shedding of his blood and body (Alma 34:14).
When Christ visited the inhabitants of the Americas he explained how the law of Moses was fulfilled in him, and how things were to become new:
And he said unto them: Marvel not that I said unto you that old things had passed away, and that all things had become new.
Behold, I say unto you that the law is fulfilled that was given unto Moses.
Behold, I am he that gave the law, and I am he who covenanted with my people Israel; therefore, the law in me is fulfilled, for I have come to fulfil the law; therefore it hath an end. (3 Ne. 15:3-5)
The law of Moses was fulfilled, but this did not mean that the covenant ended:
For behold, the covenant which I have made with my people is not all fulfilled; but the law which was given unto Moses hath an end in me. (3 Ne. 15:8)
The type of sacrifices that would be offered from that time forth was to be of a different nature:
And ye shall offer up unto me no more the shedding of blood; yea, your sacrifices and your burnt offerings shall be done away, for I will accept none of your sacrifices and your burnt offerings.
And ye shall offer for a sacrifice unto me a broken heart and a contrite spirit. And whoso cometh unto me with a broken heart and a contrite spirit, him will I baptize with fire and with the Holy Ghost . . . (3 Ne. 9:19-20)
But how is a broken heart and a contrite spirit a sacrifice? Elder Bruce D. Porter explained this in his October 2007 General Conference address entitled "A Broken Heart and a Contrite Spirit":
As in all things, the Savior's life offers us the perfect example: though Jesus of Nazareth was utterly without sin, He walked through life with a broken heart and a contrite spirit, as manifested by His submission to the will of the Father. 'For I came down from heaven, not to do mine own will, but the will of him that sent me' (John 6:38). To His disciples He said, 'Learn of me; for I am meek and lowly in heart' (Matthew 11:29). And when the time came to pay the ultimate sacrifice entailed in the Atonement, Christ shrank not to partake of the bitter cup but submitted completely to His Father's will.

The Savior's perfect submission to the Eternal Father is the very essence of a broken heart and a contrite spirit. Christ's example teaches us that a broken heart is an eternal attribute of godliness. When our hearts are broken, we are completely open to the Spirit of God and recognize our dependence on Him for all that we have and all that we are. The sacrifice so entailed is a sacrifice of pride in all its forms. Like malleable clay in the hands of a skilled potter, the brokenhearted can be molded and shaped in the hands of the Master. ((Bruce D. Porter, "A Broken Heart and a Contrite Spirit," Ensign, Nov. 2007, 31-32.))
Even the Psalmist understood, at the time of the law of Moses, that the ultimate sacrifice we must make is of a broken heart and contrite spirit. Those ancient Israelites submitted themselves to the will of Jehovah as they offered animal sacrifice and burnt offerings:
For thou desirest not sacrifice; else would I give it: thou delightest not in burnt offering.
The sacrifices of God are a broken spirit: a broken and a contrite heart, O God, thou wilt not despise. (Psalms 51:16-17)
The prophet Samuel also understood this:
And Samuel said, Hath the Lord as great delight in burnt offerings and sacrifices, as in obeying the voice of the Lord? Behold, to obey is better than sacrifice, and to hearken than the fat of rams. (1 Sam. 15:22)
As in all things, we are taught that we must follow Christ's example, and emulate Him, and as we do so we receive His image in our countenances (Alma 5:14, 19; cf. 1 Jn. 3:1-3). These things we do as we covenant in the temple to obey God in all things, and submit our will to the will of the Father, just as the Savior did. We sacrifice and offer our will, and all things temporal and spiritual in our lives, to our Father's will. We say, following Christ, "Not my will, but thine, be done" (Luke 22:42). Under the Mosaic law the submission of will was in outward performances, but thereafter it became an inward sacrifice (Alma 25:15-16).