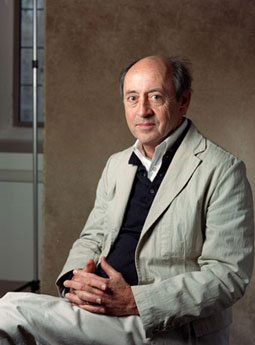 Jesse Gunther reported in an article on BYU Newsnet today about a speech given at BYU by a prominent poet:
English majors are essentially "majoring in death," said Billy Collins, an acclaimed poet laureate in the Joseph Smith Building auditorium on Friday.

"If you have an anthology and take out all poetry on death, you would end up with a pamphlet of what is left," Collins said, a two-term U.S. poet laureate.
I've posted before on another literary scholar, Harold Bloom, that also had some thoughts on death and the unique views of the LDS Church on the subject.
Why the obsession by poets through the ages on the theme of death? It is because it is one of the "terrible" questions that Hugh Nibley often spoke of, a quandary that has provoked the thoughts of sages, scientists, doctors, authors, philosophers, religionists, and many others since the beginning of time.
Why are we here? What is the point of life? Why do we die? What happens when we die? Do we cease to exist? Do we keep on living somehow? If we keep on living, what will we be doing? Will eternity be all the same? What am I supposed to be doing while I'm alive? Did I come from someplace before this life? These questions, and many more like it, have plagued the poet's mind, as well as many others, for ages. And the body of poetry we have today that surrounds the issue has evidenced that fact.
Mankind grapples with the questions of his being. To be or not to be? That is the question, Shakespeare tells us. What is the purpose of it all? Are we just a statistical aberration on a cold rock in space, or is there something else going on here? Are we just a sophisticated animal species? Why live if this is all there is? In the same breath, why die either? Modern medicine is making every advancement possible to prolong that inevitable conclusion to life, including the hollywood theatrics of "deep freeze" cryogenics. We can't get away from it, though we take every precaution possible. Finding the fountain of youth has been the utopian desire for ages.
And where the world's religions in this mess? Most Christian religions teach that if man is good, accepts Christ, and follows God, that he will go to heaven, and there dwell with God and His angels forevermore. Unfortunately, this leaves almost as many questions unanswered as we began with. What will happen forevermore? Who is God that I would want to dwell with Him? Why will dwelling with God be beneficial over not? What will I be doing for eternity? Where will I be? Will I have a relationship with anyone else in that place? Who are these angels? Will I continue to live as I did on the earth? What will eternity consist of?
Joseph Smith answered all of these questions, and that as an unschooled frontier farmboy in nineteenth-century America, and to the satisfaction of over 13 million people around the world today. How'd he do it? God revealed it to him, as His first chosen prophet in these latter days, the same way that God has revealed it to prophets since Adam. The answers to these questions and many more are to be found in the restored gospel of Jesus Christ as taught in The Church of Jesus Christ of Latter-day Saints, and most particularly expounded upon in the profound gifts of temples, the house of the Lord.