Considering all the commotion over the supposed daguerreotype photo of Joseph Smith that has been going around like wildfire (which the Church has not authenticated), I thought I might post this new proposed photo of Joseph Smith. This one actually looks much more how I would imagine the prophet than the first one, considering the death mask. Historian Will Bagley apparently notes that Joseph made mention of a photograph he had taken in 1844 (does anyone have the original reference to Joseph's statement, if it exists?). We'll see what this turns up.
The story of how the finder acquired this image is interesting, mentioning how the Brazilian book he found it in only said that it came out of New York in 1845. When was the last time Joseph was in New York? Why would it be in New York? He also includes higher resolution scans of a photocopy that he has of the original (which is currently lost). Correction: the photocopy is from a book. The original daguerreotype is in the Museu Paulista – Universidade de São Paulo, Brazil).
An article in the New Era a few years ago gives a description of Joseph from a combination of all the accounts:
Joseph was:

a little over six feet tall;
considered good looking and dignified;
athletic and strong with long legs and large feet.

He had:

an oval-shaped face;
a prominent nose, long and straight;
a rather long upper lip;
a light complexion;
deep-set hazel or blue eyes;
thick eyebrows;
long eyelashes;
fine, straight, light brown or dark blond hair.
If this isn't a photo of Joseph, it does helps us imagine him more closely.
[via A Soft Answer]
Update 3/27/08: Incidentally, this daguerreotype reminds me a lot of the actor who played Joseph Smith in the film Legacy: A Mormon Journey.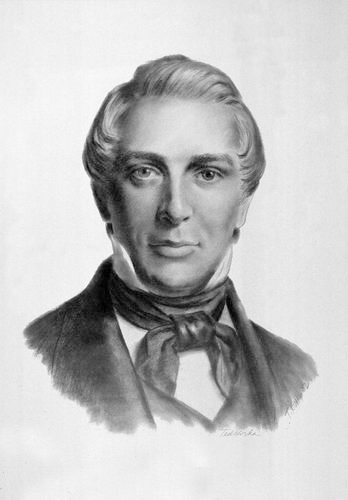 Update 3/27/08: Also consider this drawing of Joseph Smith by Theodore Gorka in 1982, which is now in the Museum of Church History and Art. I'm particularly interested in the way the forehead and chin are receding, and the prominence of the nose, like the death mask (which is probably where Gorka got his inspiration). The upper lip is also very defined. Most of the early images of Joseph were side profile sketches, but which clearly show just how strong his nose was on his face. See more below:
[photoxhibit=3]
Update 3/27/08: Correction. The finder at LDSA says that the author of the book Retratos Quase Inocentes, a Mr. Carlos Eugenio M. de Moura, acknowledges that this "daguerrotype in question is, in fact, at the Museu Paulista – Universidade de São Paulo." We'll see if he can track down a color hi-res of this. Maybe someone should just order the book off the Brazilian website.