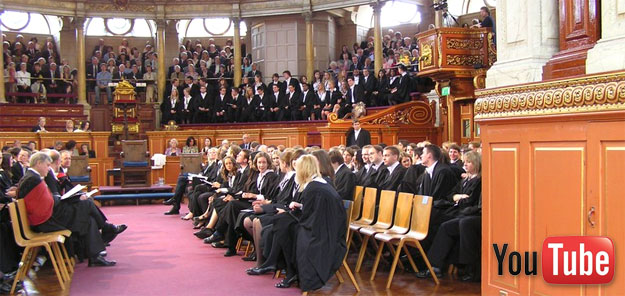 For those of you who don't want to wade through my analysis of the Oxford degree ceremony in the last part, or if you'd just like to see what the presentation is like, the degree ceremony that took place on September 28, 2007 at Oxford University was formally videotaped and posted on YouTube just recently.  Be prepared to hear some Latin.  It is divided into seven parts, and is about an hour long total.  I think you will find the ceremony very interesting to watch.
You may see them below: (See below these for another version, with subtitles).
There is also a homemade videotaped version of the ceremony posted on YouTube.  It follows the experience of a graduate named Jacob and his family as he goes through the commencement exercises.  It is shorter, divided into three parts, and has subtitles in English (for those of you who are not fluent in Latin).  You can see it here: Part 1, Part 2, Part 3.