In connection with yesterday's post about early Christian purification ordinances, isn't it interesting that we find very similar practices in the new world, among those whose culture, beliefs, traditions, history, and religion seem so different to a superficial eye? The Hopi Native Americans have a vast array of rituals, ceremonies, customs, dances, rites, and sacred dresses, which are very interesting for us to study.
In Boyd Petersen's excellent biography Hugh Nibley: A Consecrated Life we read about Dr. Nibley's travels and studies of the Hopi people. He had a fascination with the Hopi, particularly because many of their beliefs and practices mirror our own, and also those of many ancient civilizations. These have been passed down for centuries and are still practiced by the Hopi today.
Br. Petersen had the opportunity to accompany his father-in law, Dr. Nibley, and others to Hotevilla in July 1996. It proved to be a singular experience:
Of course, what amazed us were the parallels between Mormon rituals and those of the Hopi. In addition to those Hugh showed us were others called to our attention by Robert C. Bennion, an emeritus BYU professor of psychology, who accompanied us. Bob had served his mission among the Hopi and Navajo, and is a long-time friend of the Nibley family. He told us about witnessing the initiation ritual of a young woman in which the Hopi priest touched each of her sense organs with a feather dipped in corn meal, blessing them that they would function properly. Parallels appear between the language of the Mormon temple ceremony and the Hopi myth of origin in Frank Water's Book of the Hopi. Responding to someone who asked about similarities between the Mormon temple endowment and the Masonic ceremony, Nibley wrote that the parallels between the Mormon endowment and the rites of the Hopi "come closest of all as far as I have been able to discover – and where did they get theirs?" ((Boyd Petersen, Hugh Nibley: A Consecrated Life, 282))
I did some additional searching on the internet, and found this passing remark about an 8-foot tall "crow mother" kachina in the Westin Kierland Resort & Spa in Arizona:
Take a moment to enjoy the artistry of John Fredericks of Hopi, who created this 8-foot, carved Kachina for The Westin Kierland. The Kachina is a crow mother, one of the main Kachina mothers who appear each winter during the bean dance ceremony. This Kachina holds cornmeal, a sacred Hopi symbol of the staple of life used to anoint young men and women in the initiation ceremony. ((http://www.kierlandresort.com/minicms/uploads/200510191057010.walkingTour.pdf))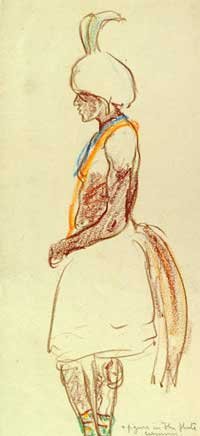 The Angwusnasomtaka, or Crow Mother, (also called Angwushahai'i, or Crow Bride) has been called the mother of all kachinas, and one of the three most important of all kachinas. Her dress is also described as being "all white," and having "a white wedding belt, black dress and a Bride's blanket with rain symbols embroidered along the borders. As Crow bride she is dressed in white and has different markings" ((http://www.indianartofamerica.com/1041.htm)).
Another account I was able to find was of John, a runner in the Walpi Flute Society, whose duty is to carry offerings to the shrines in the Hopi pueblo:
It is not small task to include all the fields in the blessings asked by the Flute priests, since the circuit must exceed twenty miles. Each day Sikyabotoma [John], wearing an embroidered kilt around his loins, his long, glossy hair hanging free, stands before the Flute priests, a brave sight to behold. They fasten a small pouch of sacred meal at his side and anoint him with honey on the tip of the tongue, the forehead, breast, arms, and legs, perhaps to make him swift as the bee. Then he receives the prayer-sticks, and away he goes down the mesa as though he had leaped down the five hundred feet, his long, black hair streaming. ((Walter Hough, The Hopi Indians, 111.))