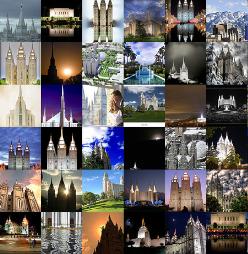 I thought it would be appropriate on a blog all about temples to include a photo gallery of some of the best photos I've found of temples. The temples of the Church are exquisitely beautiful structures exhibiting some of the best artistry and architecture found in all the world. Indeed, the architecture of the temple itself stands as a symbol of what occurs therein. The spires are an indication of where the temple directs us and where it connects us. The often white stone exterior is symbolic of purity and cleanliness. The water fountains represent the living waters. The flower gardens represent the Garden of Eden, the first temple on earth, that paradise to which the earth will return once it is cleansed. The angel Moroni represents that angel who was prophesied to be flying in heaven in the last days to proclaim the true gospel once more upon the earth in the winding-up scene:
And I saw another angel fly in the midst of heaven, having the everlasting gospel to preach unto them that dwell on the earth, and to every nation, and kindred, and tongue, and people,
Saying with a loud voice, Fear God, and give glory to him; for the hour of his judgment is come: and worship him that made heaven, and earth, and the sea, and the fountains of waters. (Revelations 14:6-7)
The temple is truly the house of God, the gate of heaven (Genesis 28:17).
The 80+ photos shown in the gallery all come from the best that are available on Flickr. If you like a particular photo, please visit Flickr and give credit to the respective photographer.