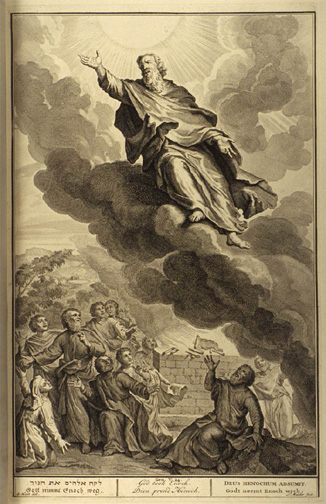 While there is undoubtedly an abundance of temple allusions in the whole of Enoch apocryphal literature, I came across a good example today. I will certainly add more as I learn about them.
This example is from 2 Enoch. This apocrypha text is a pseudepigraphon, meaning its authorship is unknown, but is considered part of ancient Jewish literature. The oldest extant manuscripts of this text are in the Slavonic language, but was probably translated from Greek. The text probably was originally written sometime during the Second Temple period (Herod's temple), between 516 BC and 70 AD. You can read an English translation of the text at Pseudepigrapha.com (which is an LDS site).
This text is unique in its depiction of Enoch, as Wikipedia notes:
For the first time, the Enochic tradition seeks to show Enoch, not simply as a human taken to heaven and transformed into an angel, but as a celestial being exalted above the angelic world.
Researching these things opens grand vistas of something deeper going on in ancient texts, particularly the traditions of Metatron, an angel that appears in mainly Jewish mystical texts, and has been attributed to a glorification or deification of Enoch, the son of Jared:
This Enoch, whose flesh was turned to flame, his veins to fire, his eye-lashes to flashes of lightning, his eye-balls to flaming torches, and whom God placed on a throne next to the throne of glory, received after this heavenly transformation the name Metatron. ((Gershom G. Scholem, Major Trends in Jewish Mysticism (1941/1961) p. 67))
It is interesting that Enoch is glorified, receives a throne of glory, and a new name, Metatron. We will search out these things more fully in future posts. For the purposes of this post, 2 Enoch shows the beginnings or origins of a Metatron tradition in Enoch literature.
Much of the Enoch literature is apocalyptic in nature, as is this one, relating a vision or revelation. 2 Enoch is filled with imagery of Enoch's ascension into heaven. Beginning in chapter 22, the character Enoch beholds a "tenth" heaven, and sees the Lord upon his throne, surrounded by concourses of angels in the attitude of singing and praising their God (cf. 1 Nephi 1:8): ((See also my commentary on the Round Dance.))
1 On the tenth heaven, (which is called) Aravoth, I saw the appearance of the Lord's face, like iron made to glow in fire, and brought out, emitting sparks, and it burns.

2 Thus (in a moment of eternity) I saw the Lord's face, but the Lord's face is ineffable, marvellous and very awful, and very, very terrible.

3 And who am I to tell of the Lord's unspeakable being, and of his very wonderful face? And I cannot tell the quantity of his many instructions, and various voices, the Lord's throne (is) very great and not made with hands, nor the quantity of those standing round him, troops of Cherubim and seraphim, nor their incessant singing, nor his immutable beauty, and who shall tell of the ineffable greatness of his glory. ((http://www.pseudepigrapha.com/pseudepigrapha/enochs2.htm#Ch22))
Enoch bows down to worship the Lord
4 And I fell prone and bowed down to the Lord, and the Lord with his lips said to me:

5 Have courage, Enoch, do not fear, arise and stand before my face into eternity.

6 And the archistratege Michael lifted me up, and led me to before the Lord's face.
Enoch is then given a promise of eternal reward:
7 And the Lord said to his servants tempting them: Let Enoch stand before my face into eternity, and the glorious ones bowed down to the Lord, and said: Let Enoch go according to Your word.
The Lord then commands Michael to anoint Enoch with oil, and invest him with garments, so that he may be made glorious:
8 And the Lord said to Michael: Go and take Enoch from out (of) his earthly garments, and anoint him with my sweet ointment, and put him into the garments of My glory.

9 And Michael did thus, as the Lord told him. He anointed me, and dressed me, and the appearance of that ointment is more than the great light, and his ointment is like sweet dew, and its smell mild, shining like the sun's ray, and I looked at myself, and (I) was like (transfigured) one of his glorious ones.
The symbolism of the temple is quite clear. This text covers the themes of ascension, deification (theosis), exaltation, anointing, investiture, the garment of priesthood, and being made like one of His glorious ones.