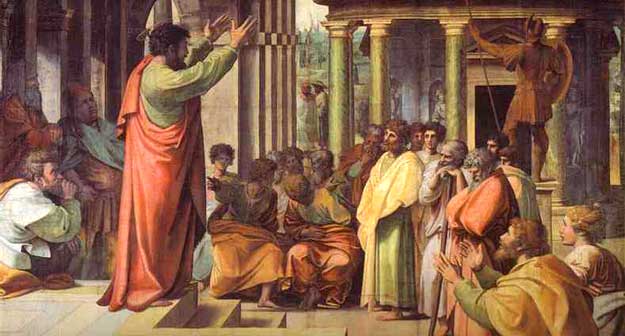 A respectful evangelical protestant reader of TempleStudy.com has asked this question:
Paul tells us in the sermon at Mars Hill that the Lord does not "dwell in houses built by hands" (Acts 17:24-25, Stephen echoes this in ch 7 of the same book) but rather that the Holy Spirit of God dwells in us; that is, that WE are His temples (1 Cor. 3:16-17). Interestingly, not only is this a contradiction to D&C teachings regarding the temple (see D&C 97), but it also appears to be a strong witness to the Trinity, at least in part (demonstrating an equivalency between the Father and the Spirit – "you are a temple of God […] the Spirit of God dwells in you"). I am curious how you interpret these scriptures.

I think this gets to the heart of the doctrinal argument over the necessity/validity of the temple in the post-Messianic age. I know where I stand, but I welcome your counterpoint!
This is an honest question; unfortunately the scriptures in question to support the claim are misunderstood.
I'm unsure about how these scriptures are evidence for the Trinity, particularly between the Father and the Spirit, for if that were the meaning we would have to be the Father and the Spirit dwelling in us, which seems incongruous. But even then, the Spirit of God would be dwelling in us, instead of being us, depicting the Holy Spirit's own traits of individuality. Rather, the scripture says that we are "a temple of God," meaning a sacred place where His Spirit, the Holy Ghost, may dwell when invited by righteousness and obedience to God's commandments.
But the root of this question is in regard to the validity or necessity of a physical temple since the time of the sacrifice, death, resurrection, and ascension of the Lord Jesus Christ, and if this atoning work wrought by the Savior superseded the physical temple and made it obsolete forevermore. First let's examine the scriptures in question, namely Acts 17:24-25 and 1 Cor. 3:16-17, during which we will look to history to see if this interpretation is in concert with the ancient Israelite nation in the Old Testament, and the early Christian disciples of the New.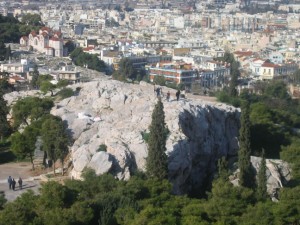 In Acts 17 the Apostle Paul was on a missionary trip passing through Athens, and while waiting there finds the city engrossed in idolatry (Acts 17:16). So Paul began his preaching of Christ among the Athenians in the synagogues and in the streets (Acts 17:17). He came in contact with certain learned philosophers who thought they knew a lot, calling Paul a "babbler" (Acts 17:18). So they went together to Areopagus, where they could discuss these issues in a better setting. (Areopagus is the Greek word for the Hill of Ares or Mars in Athens to the west of the Acropolis where the highest judicial Athenian council met, but this gathering was most likely an informal one) ((cf. Areopagus, Bible Dictionary)). There they begin to question Paul on this "new doctrine" that they had not heard before (Acts 17:19-21). It is here that Paul stood on Mars' Hill, among idolaters, and said:
23 …Ye men of Athens, I perceive that in all things ye are too superstitious.
24 For as I passed by, and beheld your devotions, I found an altar with this inscription, TO THE UNKNOWN GOD. Whom therefore ye ignorantly worship, him declare I unto you.
24 God that made the world and all things therein, seeing that he is Lord of heaven and earth, dwelleth not in temples made with hands;
25 Neither is worshipped with men's hands, as though he needed any thing, seeing he giveth to all life, and breath, and all things;
26 And hath made of one blood all nations of men for to dwell on all the face of the earth, and hath determined the times before appointed, and the bounds of their habitation;
27 That they should seek the Lord, if haply they might feel after him, and find him, though he be not far from every one of us:
28 For in him we live, and move, and have our being; as certain also of your own poets have said, For we are also his offspring.
29 Forasmuch then as we are the offspring of God, we ought not to think that the Godhead is like unto gold, or silver, or stone, graven by art and man's device.
30 And the times of this ignorance God winked at; but now commandeth all men every where to repent:
31 Because he hath appointed a day, in the which he will judge the world in righteousness by that man whom he hath ordained; whereof he hath given assurance unto all men, in that he hath raised him from the dead. (Acts 17:23-31)
Paul makes it very clear here that the Athenians were idol worshipers, believing that their god or gods were in idols made of "gold, or silver, or stone," made by man. It was these idols that the Greeks worshiped, instead of that God who "made the world and all things therein." Indeed, at least one of the gods that they worshiped they believed to be "unknown," or perhaps unknowable, something akin to what traditional orthodox Christianity believes today from what became known as the Nicene Creed, undoubtedly influenced by Greek philosophy:
These various evolutions and iterations of creeds—and others to come over the centuries—declared the Father, Son, and Holy Ghost to be abstract, absolute, transcendent, immanent, consubstantial, coeternal, and unknowable, without body, parts, or passions and dwelling outside space and time. In such creeds all three members are separate persons, but they are a single being, the oft-noted "mystery of the trinity." They are three distinct persons, yet not three Gods but one. All three persons are incomprehensible, yet it is one God who is incomprehensible.

We agree with our critics on at least that point—that such a formulation for divinity is truly incomprehensible. ((Jeffrey R. Holland, "The Only True God and Jesus Christ Whom He Hath Sent," October 2007 General Conference, http://lds.org/conference/talk/display/0,5232,23-1-775-15,00.html.))
Yet Paul declared just the opposite to the Greeks, that God was not in idols, was a real being, could be known, and began describing Him in a very detailed language, including indicating our very literal familial relationship to Him as His offspring.
I believe that the meaning of Paul's words are two-fold. Not only is he telling the Athenians where God is not, he tells them where He is:
When Paul says that God "dwelleth not in temples made with hands," he is making allusion to those man-made idols to which the Greeks were making their devotions. That isn't where God was found, he says. God made the heavens and the very earth whereupon we stand, and is not found in the small objects made by man from the materials with which he organized the earth, the planets, and the stars. God is superior to and above his creation. From the beginning man has been commanded:


3 Thou shalt have no other gods before me.

4 Thou shalt not make unto thee any graven image, or any likeness of any thing that is in heaven above, or that is in the earth beneath, or that is in the water under the earth:

5 Thou shalt not bow down thyself to them, nor serve them: for I the

Lord

thy God

am

a jealous God, visiting the iniquity of the fathers upon the children unto the third and fourth

generation

of them that hate me; (Exodus 20:3-5)

Paul is also teaching where God's literal dwelling place is. He is giving the same lesson about God's heavenly temple which Stephen gave:


48 Howbeit the most High dwelleth not in temples made with hands; as saith the prophet,

49 Heaven is my throne, and earth is my footstool: what house will ye build me? saith the Lord: or what is the place of my rest?

50 Hath not my hand made all these things? (Acts 7:48-50)

Paul also taught this in another place:

11 But Christ being come an high priest of good things to come, by a greater and more perfect tabernacle, not made with hands, that is to say, not of this building; . . .

23 It was therefore necessary that the patterns of things in the heavens should be purified with these; but the heavenly things themselves with better sacrifices than these.

24 For Christ is not entered into the holy places made with hands, which are the figures of the true; but into heaven itself, now to appear in the presence of God for us: (Hebrews 9:11, 23-24)
But do Paul's words suggest that God's presence cannot be had within earthly temples which mirror the heavenly temple? I don't believe so, because I don't believe they are earthly. Dr. John Tvedtnes has explained that the words "'without hands' suggest something not made by mortals, but by God" (cf. Col. 2:11) ((John Tvedtnes, "The Temple of God," Meridian Magazine, http://www.meridianmagazine.com/gospeldoctrine/nt/070816nt33sf.html.)). In every case of God's dealing with man on earth He has commanded his servants to build sacred sanctuaries (temples) wherein He may reveal Himself and His will to His people. In such cases God has been the director of the building of these structures, not man. The very detailed instructions God gave to Moses for the construction of the Tabernacle in the wilderness is a great example. Hence, even these physical temple buildings are really not "made with hands," at least not mortal ones. God reveals His will to man, and man obeys. It is God's holy house, even a "mountain of the Lord's house" (Isa. 2:2-3). We are taught as much by Paul in Hebrews 8:
1 Now of the things which we have spoken this is the sum: We have such an high priest, who is set on the right hand of the throne of the Majesty in the heavens;

2 A minister of the sanctuary, and of the true tabernacle, which the Lord pitched, and not man.

3 For every high priest is ordained to offer gifts and sacrifices . . .

5 Who serve unto the example and shadow of heavenly things, as Moses was admonished of God when he was about to make the tabernacle: for, See, saith he, that thou make all things according to the pattern shewed to thee in the mount. (Hebrews 8:1-3, 5)
It is interesting to note at this point that D&C 97, which section our reader believes to be in contradiction to the Bible, uses very similar language when describing the divine direction of the building of the Kirtland temple:
10 Verily I say unto you, that it is my will that a house should be built unto me in the land of Zion, like unto the pattern which I have given you. . . .

15 And inasmuch as my people build a house unto me in the name of the Lord, and do not suffer any unclean thing to come into it, that it be not defiled, my glory shall rest upon it;

16 Yea, and my presence shall be there, for I will come into it, and all the pure in heart that shall come into it shall see God.

17 But if it be defiled I will not come into it, and my glory shall not be there; for I will not come into unholy temples. (D&C 97:10, 15-17. See especially 2 Chr. 5:14; Lev. 16:2; Matt. 5:8; 1 Kings 8:10-11)
Dr. Lawrence H. Schiffmann, the Director of Judaic Studies at New York University, has explained the very purpose of temples on earth:
When it comes to the temple, I think one of the ideas is that a person that comes into the structure is supposed to be overcome spiritually, to feel that he or she is literally in the presence of God. (("Between Heaven and Earth," DVD.))
If God "dwelleth not" in these temples which He commanded and instructed His people on earth to construct for the very purpose of being in the divine presence, then why did Christ refer to the temple in Jerusalem as his "Father's house"? What of Paul's own worship and practice in the temple following the ascension of Christ, including a theophanic vision. Dr. Bill Hamblin has shown:
… it is quite clear that the New Testament apostles continued to worship in the Jerusalem temple after Christ's ascension (Acts 2:46, Acts 3:1-10, Acts 5:20-42). Even Paul worshipped there (Acts 21:26-30, Acts 22:17, Acts 24:6-18, Acts 25:8, Acts 26:21). Paul is explicitly said to have performed purification rituals (Acts 21:26, Acts 24:18), and prayed in the temple (Acts 22:17, cf. Acts 3:1); he claims that he has not offended "against the temple," implying he accepts its sanctity (Acts 25:8). Indeed, Paul also offered sacrifice (prosfora) in the temple (Acts 21:26, cf. Num 6:14-18), a very odd thing for him to do if the temple had been completely superceded after Christ's ascension. Finally, and most importantly, Paul had a vision of Christ ("The Just One" ton dikaion) in the temple (Acts 22:14-21), paralleling Old Testament temple theophanies, and strongly implying a special sanctity in the temple, where God still appears to men even after Christ's ascension. ((Bill Hamblin, "Temple Obsolete After Christ," FAIR, http://en.fairmormon.org/Temple_obsolete_after_Christ.))
If Paul's words to the Athenians were to be taken at face value, Paul would have no regard for the temple structure whatsoever, let alone be found worshiping there or having the divine presence being made manifest to him there.